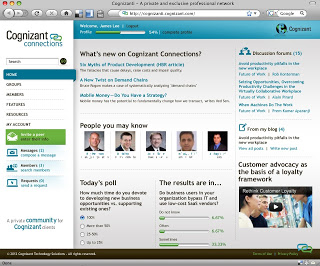 B2B online customer communities are often the elusive queen of the social business world- gated, private and not often in the limelight, but powerful to the companies that host them.  Due to the insights and competitive advantages they offer, their inner-workings are often a best-kept secret.  But, in celebration of a recent redesign of Cognizant's community – Cognizant Connections, my colleague Alan Alper, senior director of corporate marketing, was willing to share some insights about their online community through a Q&A session with me.
Cognizant is one of the world's largest providers of global IT, business process and consulting services) and their online community is designed to share best practices with business and IT leaders from around the globe as well as enable peer-peer connections on professional topics from key business and technology trends through sourcing of strategic services.  Alan leads the charter on Cognizant's thought leadership efforts – publications and points of view.   The community plays an important role Cognizant's ability to collaborate with their customers on strategy and operations vision and implementation.      Now on to Alan's insights….
Would you please share a bit about the Cognizant Community?
Cognizant Connections is a private community comprised primarily of senior level Cognizant clients, from CIOs and COOS, through vice presidents of various business functions and technology departments. It is by invitation only and there are private groups where members can more comfortably share their PoVs without fear of offending anyone or breaching confidentiality. Interestingly, our Quality Strategy Council is one of our most active and engaged groups, where members discuss the latest and greatest developments related to business continuity and software testing practices.
We have built a safe place for them to join common interest groups and share insights among themselves and with our subject matters, as well outside experts (partners, academics, friends of the company, etc.). Current count is 3800 members since we soft launched in October 2007. Focus on quality of member and level of engagement, not raw numbers.  In fact, we pruned a third of our list last year to weed out people who are members but hadn't engaged in at least a year. We came to the conclusion that if someone didn't come back after seeing at least 12 e- newsletters and countless alerts on everything from new content and conversations in groups to which they subscribe, they really weren't interested in being a member.
Does Cognizant differentiate between social media marketing and social business? Where does the online community fall in the spectrum of social strategy? 
We see the community as social business … we are all about creating a comfortable place for clients to connect with experts, share knowledge and solve problems in a collaborative way. Our social media marketing is separate but integrated across platforms (SlideShare, FB, Twitter, Pinterest, etc.). Our ecommunity manager is also our social media evangelist and digital marketing strategist. This ensures that our strategy is integrated and best practices are shared across our various channels.
How do you define social business?
We define it as the art of business collaboration, using digital tools and techniques that enable individuals across silos , organizations and industries to work together to share insights and tackle thorny business challenges. Not everyone gets this, so our view is that we are building this platform for younger and up-and-coming business leaders who can hopefully model more collaborative and transparent social business behaviors for the rest of the community.
What are some of the ways, if any, that you as the Community leader have integrated offline and online activities in support of your customers?
Cognizant Connections is a perfect extension of our physical world meetings, enabling pre-, mid-, and post-event exchanges of knowledge and informational needs. We have used special interest groups to gauge interest in events, call for speakers and get feedback on materials presented at our events. In fact, these are the groups where we tend to have the most engaged and active users. I guess Cognizant Connections, when combined with real-world meet and greets, is the most effective way to build esprit de corps!
Are there any other ways you use the data or insights surfaced through community to impact / inform core operations?
We do use an assortment of web analytics to highlight which content areas are most fertile.  This helps us to see where we should focus our thought leadership development efforts.  The community also acts as a sounding board for trends and PoVs that we want to share with a broader audience. The results may not totally influence business decisions, but they provide an important input for figuring out client/prospect sentiment.
What do you think are the biggest benefits of community for Cognizant?  Why do you do it?
As I tell all of our senior execs — we are building this community for the next generation of business leaders.  More important, Cognizant Connections enables us to create more transparent and real-time ways to work with and share insights with clients.  It is an important investment, particularly if we want to reinforce that we are company they can count on to  build more digitally collaborative ways of working across silos and industries.
Do you have any advice or lessons learned for other B2B companies seeking to build an online community to service their customers?
Suggest you let your targeted audience lead you initially, but do not despair if they do not know what they want. There's a lot of trial and error involved; no organization has gotten it totally right.  It's a two-parts experimentation, one part perspiration formula. Keep trying new things; if user blogs aren't your members' cup of tea, get rid of them.  Seek ways for members to connect and participate at the level that makes them most comfortable. Also, remember most networking usually takes place at a level that is invisible to the community operator/sponsor, so don't fret if you don't see members exploiting the connections they make within your community by commenting on blogs and discussion areas. It is happening in the physical world, on the phone, via private email, etc. Therefore, make sure to connect members through physical world meet and greets, if possible. It enables members to further develop virtual relationships established in your ecommunity.